The Logistics Council (TLC) of Milwaukee invites you to a dinner program on Thursday November 13th where the Secretary of the Wisconsin Department of Transportation Mark Gottlieb, P.E., will be our guest speaker.
Transportation networks in the United States and internationally have grown tremendously throughout history, improving the speed and efficiency with which goods are transported from producers to consumers.  Expanding from ancient trade routes and cobblestone roads, to modern ports, railroads and highways – an interconnected web designed to meet the expanding needs and number of the populace.  As these networks expand in size and complexity, the responsibility of sustainable development obliges both users and developers to design processes and transportation solutions which "meet our present needs without compromising the ability of future generations to meet their own needs" [U.N. Brundtland Commission, 1987].
Program Overview:
This event will include the informative presentation, as well as a networking event for area college Supply Chain students to meet professionals in the Logistics industry.  Conducted jointly with the support of the Marquette University Center for Supply Chain Management and hosted in the Marquette Raynor Library, this event will bring together educational, professional and governmental experts in a unique atmosphere of learning.
Please join us for another quality educational program from The Logistics Council.
Speaker: Mark Gottlieb, P.E., Secretary of the Wisconsin Department of Transportation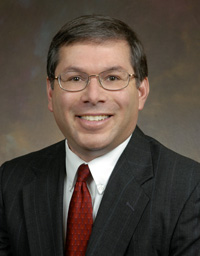 Mark Gottlieb was appointed by Governor Scott Walker to serve as Secretary of the Wisconsin Department of Transportation (WisDOT) beginning in January 2011.
Secretary Gottlieb represented the 60th Assembly District in the Wisconsin State Legislature from 2003-2011.  Prior to that, he served as an alderman and mayor in the city of Port Washington.
Secretary Gottlieb was born and raised in Milwaukee. He holds bachelor's and master's degrees in Civil Engineering from the University of Wisconsin-Milwaukee and is a registered professional engineer in the state of Wisconsin. He served in the US Navy from 1974-1978.
Secretary Gottlieb's honors and recognitions include the Wisconsin Counties Association "Friend of County Government" award, League of Wisconsin Municipalities "Outstanding Legislator", Wisconsin Farm Bureau "Friend of Agriculture," and Wisconsin Builders Association "Friend of Housing."
Secretary Gottlieb is past-president of the Mid-America Association of State Transportation Officials (MAASTO).
WisDOT is one of the largest state agencies, with 3,500 employees and an annual budget of more than $3.5 billion. The department supports all modes of transportation, including state highways, local roads, railroads, public transit systems, airports, harbors and bicycle and pedestrian facilities. The department also serves 50,000 people each day through the Division of Motor Vehicles and includes the Division of State Patrol which enforces laws and aids motorists throughout the state.
Registration & Logistics: 
This event is limited to 75 attendees. Please pre-register to ensure a seat.
Place:
Marquette Raynor Library
Directions:
1355 W Wisconsin Avenue
Milwaukee WI
Parking:
Marquette parking structures visitor rate is $3 after 5:00 pm
749 North 16th St   or   1240 West Wells St
Please see map below
| | | |
| --- | --- | --- |
| Time: | 5:30 pm | Registration |
| | 6:00 pm | Dinner buffet |
| | 7:00 pm | Wisconsin DOT Secretary Mark Gottlieb, P.E., |
| | 8:00 pm | Networking |
Please pre-register for this event to ensure that space is available
| | | |
| --- | --- | --- |
| Cost: | | |
| | $45.00 | Pre-paid with RESERVATION |
| | $50.00 | pre-paid less than 4 days from the event date or AT-THE-DOOR |
| | $15.00 | College students or Marquette University faculty |